This classic sandwich is even better than ever!

These pork sandwiches tastes great with coleslaw.

May be served on traditional hamburger buns, thick slices of whole-grain or Italian bread, toasted English muffins, pita bread or round sesame rolls.

Great for any picnic -- plain or fancy. For easier serving, cut sandwiches into portions before wrapping and packing.

Serve these small, flat bean patties in pita pockets with lettuce, tomatoes, cucumbers, and tangy plain low-fat yogurt.

The essence of summer — with garden tomatoes and our fresh herb sauce.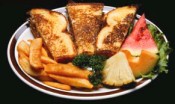 Starving but no time to cook? Think again!

Smell like fresh crab cakes on the wharf--and just as tasty and addicting!

Great Finger Sandwiches made from Pita Breads for a warm snack or a quick hot lunch.

Hearty, but healthy eating, goes great with baked beans and coleslaw.