It's a meal in itself. Anchovies are optional.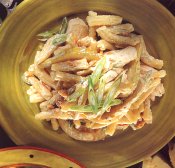 Pears are a very versatile fruit. Used in this salad it makes a savoury dish.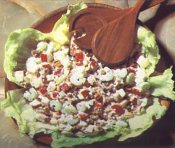 This recipe may be prepared with "light" mayonnaise, if preferred.

4 eggs -hard boiled 2 slices onion-diced 1/2 piece of celery-diced dill weed-to your taste 1 tbsp. of reduced mayo black pepper-to your taste 8 slices pickled beets- cut in ...

The perfect topper for your favorite salad. Submitted by our member: Tom Carson.

Just the right combination of Beans, Olives and Tomatoes.
Versatile Bean Salad that can be served warm or cold.

This salad of rice and peanuts is great as a main dish with leftover roasted chicken pulled into thin shreds or with the recipe for "Spicy Marinated Shrimp" in the ...
A gentle blend of tomato and olives make this dish a favorite.

Colorful---a conversation piece. Lemon dressing is already in this salad.